Senior Pastor: Spencer Harmon
Spencer hails from Cincinnati, Ohio, and came to Louisville 7 years ago for school.  He and his wife Taylor love their two precious daughters and currently reside in south-end of Louisville.  Spencer loves taking walks with his wife and daughters, having people in his home, and riding his bike when the weather is nice. Spencer serves Vine Street as the Senior Pastor and is responsible for preaching, shepherding, and vision.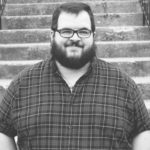 Associate Pastor of Worship Ministry:  Jacob and Jaime Hatcher
Jacob was born in Georgia and raised in Nashville, TN. He and his wife Jaime met in Nashville and moved to Louisville in order to attend Boyce College. Jacob came to Vine Street Baptist Church in February of 2015, and serves as the Worship Pastor. In addition, Jaime became an invaluable part of the worship ministry as instrumentalist and in leading worship, blessing people with her beautiful voice and her heart to see those far from God be drawn nearer to Him. Jacob and Jaime have two wonderful sons, both named after "old school" Country Music legends.
Chairman of Deacons & Tech Support: Chandler Bainter
Sunday School Superintendent: Pat Meek